Sign up for the Current 93/Coptic Cat mailing list below:
tir.an.na ud nu-uh-šú mu.bí mar-ra-tum
meš-hu šá mul ki-šú ia-'-nu
Thu 02 May 2013
Photo: Ossian Brown
Recent difficulties in my personal life, including the sad break up between me and my recent partner, have slightly delayed the final elements of work on my forthcoming lyric book. I have been battered and spun by the BaalStorm. Cupid, shoot me with another arrow from your UtterOmega Bow.
However, I have now resumed work on it. It will no longer be called Under the Rain and Teeth of Gods; its title is now confirmed as Sing Omega. I am pleased to give a fairly complete list of the contents; I may have missed out a couple of titles that are included, so the titles below may not be comprehensive. This book is VERY imminent indeed.
1) The complete texts for the C93 albums and singles:
Aleph at Hallucinatory Mountain • An Introduction to Suffering • BaalStorm, Sing Omega • Birth Canal Blues • Black Ships Ate the Sky • Bright Yellow Moon • Christ and the Pale Queens Mighty in Sorrow • Dogs Blood Rising • Earth Covers Earth • Happy Birthday • HoneySuckle Æons • Horsey • Hypnagogue • I Am Black Ship • Imperium • Inerrant, Infallible • Island • Lucifer Over London • Musical Pumpkin Cottage • Nature Unveiled • Nightmare Culture • Of Ruine or Some Blazing Starre • Sleep Has His House • Soft Black Stars • Swastikas For Noddy • Tamlin • The Fire of the Mind • The Inmost Light trilogy • The Nodding Folk • The Seahorse Rears to Oblivion
2) My lyrics for the MYRNINEREST album "Jhonn," Uttered Babylon, for Nature & Organisation's Beauty Reaps the Blood of Solitude album and Michael Cashmore's The Snow Abides album, as well as those for for Sigh's Scenes From Hell album, 6 Organs of Admittance's Manifestation and Skitliv's Skandinavisk Misantropi.
3) Unpublished, or re-worked, or privately published, material will include material written, but not used, for Sleep Has His House, the so-called Endless Roughs that eventually became The Inmost Light trilogy, the unreleased album with Zu which was to be titled Mirror Emperor, an early version of "Black Ships Were Sinking" from Black Ships Ate the Sky, the initial proem, as well as unused writings towards that album, which gave rise to Aleph at Hallucinatory Mountain, the original texts for the poems in the Four Gnostic Soliloquies book and the following pieces, generally, and currently another 39 poems including:
At The Face And The Horse • Banner Glass (Dissolving Views) • Breathe (The Heart Of God) • De Profundis • DaedHorseDream • Dream English I • Dream English II • EarthDream • HoverFly • Hypnos • If Not For The Judgment Already Taken • In The Streets By The Square • Is This The Road To Coolsville Or Emmaus? • Lament Terminal Eden • Maggot Moon • MoonLess • My Eyes Are Mirrors • Noises Of Urn Burials • šá naq-ba i-mu-ru • Someone Is Living Inside Me • Stabat Felix • Texts From 2003 When Descending • The Kingdom Of Heaven Was Within You • The Lamb Of God Lies At The End • The Market And Circus Is Now • The Night Was Lovely • The Stars Pushed Down The Night • The Sky Was Higher Than The Forest • The Sound Of The Child • The World Is A Pool Of Beauty • There Was A Rumour Of Wars In ToyTown • There Was A Shout In The Sky • Thursday And Godless
Thu 02 May 2013
I was OverMoon to have the honour of Tony (TS) McPhee playing an hour-long set of Hallucinatory Electric Guitar at the opening of my art exhibition at The Dragon Bar in Hastings. Thank you so much Tony, and to all who attended. Especial thanks to Ossian Brown who helped me choose the paintings and drawings to show, as well as framing and hanging them. The last day of the exhibition is Tuesday 7 May. Thank you Bobbie Seagroatt aka Watson of Comus for the photos!
Facebook
•
Bobbie's biography page on Comus's website
Thu 02 May 2013
I mentioned in an earlier update that my archive is about to be purchased by a prestigious university in the USA. In celebration of this sale, the lovely Johan Kugelberg and his colleagues at
Boo-Hooray
will be hosting an extensive exhibition of material from the archive, including many rarities, letters, photos, and a large collection of my holograph manuscripts for my lyrics. We hope the exhibition will open at a date between November 2013 and March 2014. A large illustrated book will be published some months afterwards, again by Boo-Hooray, picturing a large selection from my archive. We are also hoping to hold a simultaneous exhibition of my paintings and drawings in another NYC gallery.
Thu 02 May 2013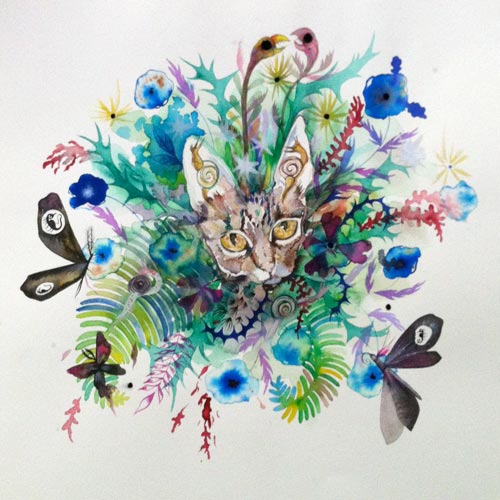 I am more moved than I can say to have received two extraordinary paintings, gifts from one of my favourite artists, the astonishing Megan Diddie. Thank you, Utterly, for these beautiful portraits of my cat Wiggy as well as of of the Feral Fire Incarnation of my cat X-Ray Unseen as "Snakes Hiss, Cats Hiss". I will not forget your kindness and friendship. The pictures are taken with my iPhone, so don't portray adequately their richness and beauty.